Wimbourne to Weymouth..
Left Wimbourne at 07.00 and arrived in Weymouth at around 10.35, then spent an hour and a half searching for a campsite.
Haven's Littlesea site was the only one with places available that I could find, it's at the far (arse) end of an industrial estate, avoid it!
I won't last long at their prices. it's
Seriously Expensive
here. £23.00 for 1 tent containing 1 person for 1 night (with no car).
Haven Littlesea
The site is not good, in fact, its the worst yet.
Full of unfriendly people all closed in behind their own little areas of windbreaks, scowling and possesive of a little patch of scruffy grass.
I went into the campsite shop. There were 3 girls working in there, all in their late teens, and all pregnant, it must be one hell of a nightclub here.
It was an uneventful ride to get here, until just before Weymouth. A V shaped old river valley leading to the sea was my first sight of the English channel. Two huge birds were circling in the sky over the valley, I was watching them through binoculars but wasn't sure what they were. Eagles? big enough and had the right colours and the splayed wing tip feathers.
Just around the corner, a mile or less, on the right hand side of the road is a sculpture carved into the side of a hill. A man on a horse overlooking Weymouth. It's chalk land here so it stands out a brilliant white against the green of the hill on a sunny day.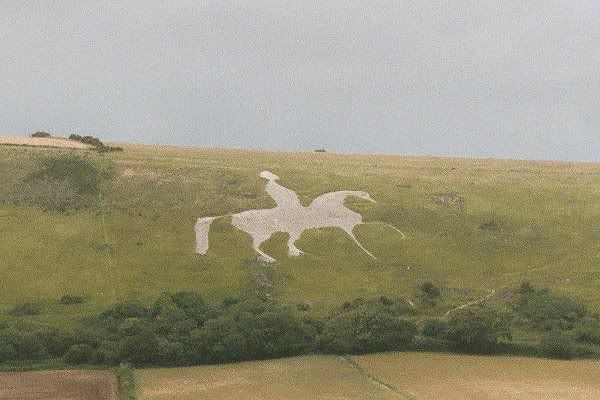 Very impresive.
Soon discovered that I don't like Weymouth. It has a good shingle beach on its eastern side and very smart, even excellent, archtecture,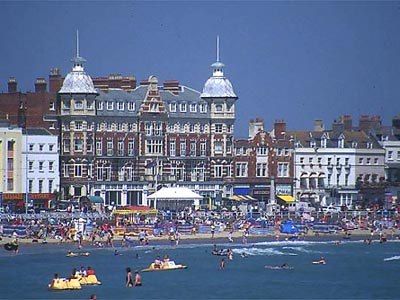 but the town itself is just another plastic fantastic. The same as all the other seaside towns in England. Cheap junk on sale to people that don't care what they buy, and MASSES of litter everywhere. Junk town, it amazes me everytime I see this.
Why do these people come here?
What do they get from this?
Mothers screaming and swearing at kids who have heard it all before and don't give a damn. Arrogance in everyone, their approach and attitude, and the everpresent feeling that at any moment it could turn to violence. 2 lads were eying up my bike whilst I was in a phone box, I made eye contact and they moved on. The town obviously has an illustrious past, but what happened here to make it like this? I'll be sleeping in my boots, I don't want to lose anything here.
Bought the ferry tickets, I just need to check in at 06.15 tommorrow. An early night tonight, if I can.
The ferry looked good, a twin hulled monster. I was hoping that it was as fast as it looked.

I'm booked to leave at 07.30, and arrive in Guernsey at 09.15. Then 3 free hours , then to France, arriving at 16.00 (ish).
I feel at my most vulnerable here. People must know, by seeing the bike and trailer, that I am passing through on a trip and am just waiting for the ferry.
Miles 48 (ish) I forgot to check.
Time 3.5 hours Wimbourne to Weymouth.