Reynes to Lezignan Corbiere 97.1 miles, 09/08/04
O.K. Moving again.
Am writing this on Tuesday morning 09.00.
Left Can Guillet yesterday morning 05.30. What a relief! A big weight off my shoulders, no more trying to decipher peoples motives as well as the language and at the same time! Its complicated there.
Rode down to Reynes Pont and arrived just as the street lights were switching off - perfect timing for the bakers at the bottom of the hill. 2 chocolate bread rolls + 2 chocolate eclairs, a large bottle of ice cold water - Perfect breakfast :)
Fresh baked half an hour before by someone that definately knows his business.
On to Ceret and bought some cigarettes, now I can smoke freely, no pressure not to smoke, dissaproving looks and comments. Need some new panniers but the bike shop doesn't open until 14.00. Bought a top rack last week to reoganise my luggage and take some weight off the trailer, works well, is more streamlined and balances better on the bike, new speed record now - 36 miles perhour - downhill somewhere around Caves and Sigean.
Decided to follow the pilgrimage route to St. Jacques de Compostelle, there are several choices here, but I join the "Via Tolosana" soon and that is more of a major route (I think).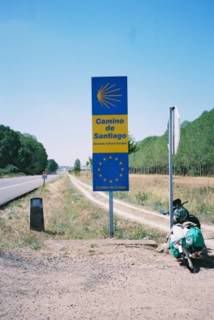 Signpost on the N120,Spain.
Running alongside the
Camino de St Jacques de Compostelle
Had my feet in the Mediterranean on Sunday afternoon at Argeles sur Mer...
...and on monday morning I started the pilgrimage in Elne, near Perpignan.
Perpignan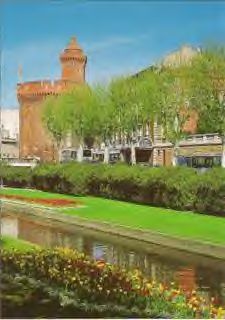 A lovely town with a large "cathedral" on top of the hill, all cobbled and smooth granite paved up there, superb view over the town. Couldn't get a route card/book (credentials) to be stamped so bought some postcards and kept the reciept.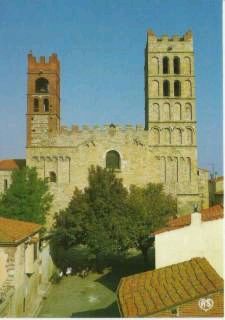 Postcards of Elne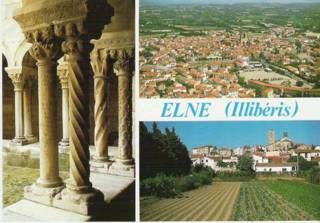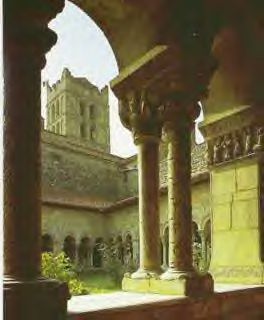 Inside the church at Elne* postcard.
Will be travelling on a set route, visiting each town but not nescessarily stopping at each one, Elne, Narbonne, Carcasonne, Foix, St. Lizier, St. Gaudens, St. Bertrand -de- Comminges, Lourdes, Oloron Saint Marie (joins the Rome trail here - the Via Tolosana) - more later as I reach them. Had a really good day yesterday, freedom again, very nice.
Travelled 97.15 miles in 7 hours and 44 minutes riding time. Was 13 hours moving yesterday, put up the tent 20 mins before it started to rain - I still have my luck!! Most of the day was in a soft, very warm sea mist, couldn't see more than about 4/5 miles at best.
I have a thermometer on the bike now, 32 degrees C all day and 25 degrees C last night, perfect - no sun, no sleeping bag.
Route yesterday = Can Gillet to Ceret, le Boulou, Elne, St Cyprienne, Canet, St - Marie, St Laurent de la Salanque, Port Leucate, Caves, Sigean, Narbonne, camped at Lezignan-Corbieres.
Municiple site on a hill, not bad, E22.00 now. The price has more than doubled, tourist season, very busy.
Can text freely as well now- a good signal now I'm away from the mountains, and again, no disapproving looks and comments. Is very nice to speak to Zarah and home.
Time to pack and move - sun has dried the tent - Carcassonne and Foix today. I like Foix, been there before.
Zarah may be adding pictures to the blog, in the abscence of my camera she will be surfing and posting relevant photos. Thank you Z >:X< R