Equipment List..
First a few pictures....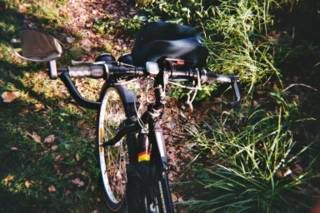 All I need for the day is here, the mirror is essential.
The bar-ends allow for plenty of changes of hand
position during the day.
Camera, binoculars, mob phone with 9v battery charger,
diary with todays rough route and the largest
bag of boiled sweets I can find (beat the bonk)
are in the barbag.
Roadmap is in a bag bungeed into the water bottle holder.
Thermometer taped onto the crossbar.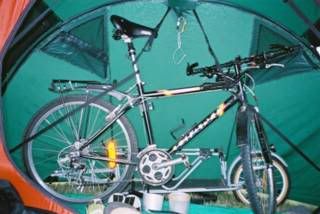 The tent is designed with tension straps from
the ground anchors to the pole apex to aid bad
weather stability, these straps
are perfect for keeping the bike steady
and upright inside the tent porch at night.
Both bike and trailer fit perfectly with no adjustments.
The green tarp used to cover the trailer
whilst riding doubles as a porch groundsheet
inside the tent. The clip hanging from the
centre of the tentpole is for the evening's trash.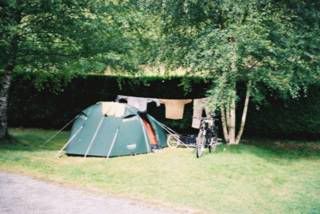 Home Sweet Home... Done all the cleaning,
servicing and repairs. Now just to lean against
the tree and fall asleep.
Bungees holding a coiled spare tyre and 2 litre
water bottle (under a fleece to keep it cooler)
to the top of the trailer.
Towel drying at the back.
Rear rack holds tent on top, panniers hold
tools on the side facing the camera,
food and water the other.
Road map is rolled in a bag, bungeed into the
water bottle holder, under the lock.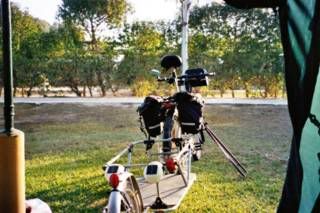 Solar lamps on the back here are standard
garden lights (B+Q) hanging on extended bolts,
they give enough light to read/write at night.
The bike stand is a loop of narrow tape webbing
tied around the crossbar and held to the ground
with 2 tent pegs placed 6" apart and angled at roughly 45'.
As long as the front wheel is
not allowed to turn (bungee to frame) then this
is perfect for anywhere with soft ground and will
take careful loading and unloading easily.
Equipment
Bike. Giant "Boulder", completely standard.
Tyres. Non specific brand dual road/trail. 26" x 1.25"
Later in the trip I opted for knobbly on the back and dual on the front.
Trip comp. Sigma
Bar bag. Karrimor
Lights. Smart halogen
Trailer. Koolstop Wilderbeast.
Tent. Vango Equinox TBS 350
Bar ends, Mirror, rear rack, all Decathlon non branded products.
Sprung saddle and sprung saddle post, non branded.
panniers, non branded.
Tools/equipment:
Socket screwdriver plus assorted bits,
flat blade and phillips screwdrivers,
Metric allen key set,
Pliers, wire clippers,
spare nuts bolts+washers,
cable ties (zip ties)
gaffer tape
oil,
torch, batteries,
spoke key
3 spare innertubes
(1 x presta, 1 x schraeder, 1 x 16" wheel)
spare tyre (from Estelle onwards),
tarp 2m x 1m
2 tyre levers,
2 small tyre pumps,
2 puncture repair kits
thermometer,
binoculars,
2 solar charging lamps,
Alu cookset,
knife fork spoon,
camping gaz stove,
camping gaz lamp,
emergency mob phone charger (9v battery),
washing line,
basic first aid kit,
writing materials,
camera,
2m light chain + padlock,
8 bungees
tape webbing slings
spare tent pegs,
shackle lock
4 karabiners with extenders
small "freeplay" wind up radio
wash kit,
sunglasses,
soap powder,
plug,
ajungilak nordic lite sleeping bag,
6 reed airbed,
foam sleeping mat,
rough guide to Spain,
lonely planet cycling guide to France,
road atlas-France,
road atlas Portugal/Spain,
2pocket language guides
english-french,french-portuguese.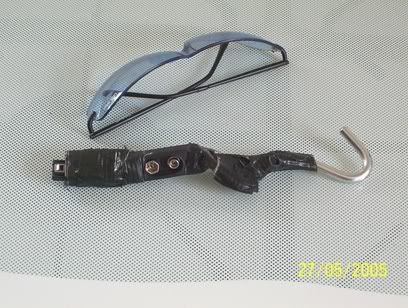 The top pic is of my mobile phone charger, it takes a standard small 9v battery roughly a couple hours to charge the phone, allowing a days texting to friends and family. It was my most treasured item of kit but it wasn't a robust unit, and ended up splinted to a tent peg with gaffer tape. Things got decidedly hit and miss with this charger towards the end of the trip.
The bottom picture is a weightsaving reminder, you only really need half a pair of binoculars.............