First Day 02/06/04... Friskney near Boston to Wing (Rutland Water) 83.3 miles..
02/06/04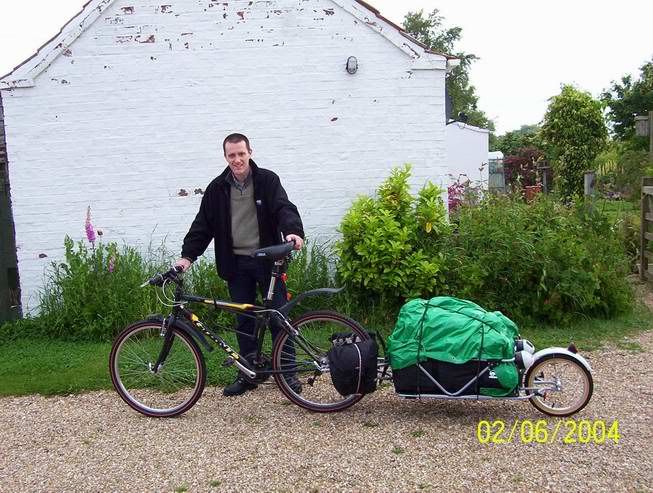 I left Friskney at 08:00.
Somehow it didn't feel right to be going, it felt like I was leaving too much behind. As I rode away I was very glad to be finally setting off, but sad to be moving away from home here. There's a huge backstory to my leaving that I will not be writing here, suffice it to say that it was a bittersweet moment.
Todays route...Friskney, Sibsey, Frithville, Hubberts Bridge, A52, A17, A16, Spalding, Stamford, A606 Oakham, Rutland Water.
My intended campsite at Manton was closed. A good job - it was a building site and I'm much better off here at Wing.
I took a wrong turn at the end of the day due to dodgy directions, I didn't consult the map and so did a circuit of the lakes - ha, just what I needed at the end of the day.
Wing House/Manor campsite is a huge old victorian manor house at the SW corner of Rutland Water near the A6003 and A47 crossroads. It has lots of land and it's own fishing lake.... but no shops...Hell.
I was hoping to be able to buy food locally when I stopped for the night.
They sell eggs and have water points/showers etc but thats it, no villages close by.
This is a very nice campsite, with lots of room, in a
Perfect
setting. Looking out the door of the tent down the valley I can see no houses, pylons, or roads. Its all fields and trees.
I got the "60 mile munchies" earlier today so stopped at a truckstop burgerbar run by a small Scottish guy. I asked him for 3 of his finest and he gave me a look of shock.... 3? 3 burgers??
When I told him where I was going he fed me up on Irn Bru and gave me stories of huge exports to Russia because it's a good vodka mixer.
There are no internet facilities or cafes here, that means no talking to Zarah....not good.
Site £5
Miles = 83.33
time riding = 6h 39m
pushed it....twice
started at 08:00 , finished at 17:15
Couldnt have hoped for a better first day, all sun, backwind, and a good campsite.