Dinan..
Late up today, 08.30.
It looks like all the English have been put together here, people are coming back from the showers singing 'Singing in the rain' wearing just a pair of shorts and with wet towel over one shoulder.
Rain is pouring down, I may stay another day and avoid getting all the gear wet striking camp, will wait till midday see what the weather does.
OK, booked in for another night, it's still pouring down. I'm catching water from the rolled up door flap in a billy can, 1 litre in 2 hours. Wrote a letter to Zarah, tent bound!
The rain stopped about 13.30 so I went for a ride, a gentle introduction to a foreign country. Found a small village close to the site that's all cobbled streets. OLD stone houses everywhere, one built around an ancient tower. Found the road to Dinan, it took me down to the river where cafe's line one side of the street and boats the other. Rode through and up the hill to look back down from the bridge above. It must be 130' high and the town is right underneath it, was very nice looking down at a slow river, al fresco cafe's and lots of boats.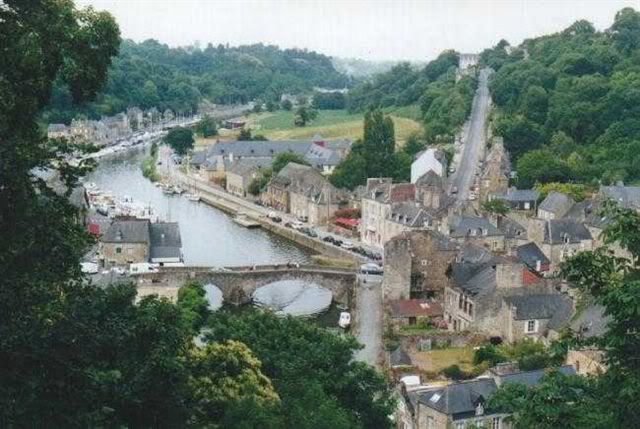 The houses didn't look right to me, all the angles and sizes were different , I'm used to the english regularity, but it all works together here.
Picturesque. Wooden dinghys and canal cruisers all lined up.
Back down into town and took a left turn up a tiny cobbled street, opposite the bridge and up an incredibly steep hill into a medieval wonderland.
Tiny street, ancient buildings,and granite paving worn smooth with the years.
HUGE timbers jutting out everywhere over lots of arty shops selling expensive gifts to tourists, one selling bronze figurines, foot high art deco women, superb.
This town covers a large area, well worth another visit.
Site = La Halleraise, St Sampson, Dinan. E23 for 2 nights.