Devises to Wimbourne Minster 06/06/04 59.71 miles..
06/06/04
miles today = 59.71
total now = 315.18
I fitted the counter when I got the trailer, so this is a total of training too.
I'm camped at Wilksworth Campsite, just north of Wimbourne Minster on the B3078, it's superb.
Wilksworth Campsite
Its almost a country club, manicured, polished and set well back from the road. Packed with expensive caravans and cars....and I turn up, haha, 59.71 miles in 5 hours 16 mins on the hottest day yet, wearing a t-shirt that's 2 days old and in my last pair of clean socks....hmmmm... what will my reception be like??
Superb again.
I was made very welcome at the site office and booked in for 2 days. After the last few days this is paradise.There are laundry facilities, a shop, and a restaurant, ahhhh relax.
I set off this morning from Devises at 0830. An old couple turned up on the site in a car at 0600 on a Sunday morning, and then let loose a yapping toy poodle.....and let it run around barking while they set up their van....Popular People.
Through Devises, a ghost town at that time on Sunday, and out to the A360, a good road, but again the hills are getting me. I will have to lighten the load on this trailer.
Across Salisbury plain, with wide open rolling grassland in hot sunshine. I stopped on top of the highest hill and looked around and I could see for miles.
Lots of this
and this....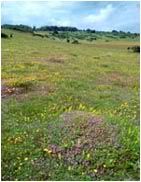 and this...
It's an army training ground.
I noticed a strange sound, water splashing, and realised that I was stood next to a spring. "But I'm on top of the highest hill I can see?" Am I that tired?
No, its real.
Strange.
Stonehenge,
right at the side of the road, with access through a pedestrian underpass.
£5.20 entry fee.
Unbelievable!!
Where does the money go? Certainly not to the upkeep of this site.
I walked in a circle around the stones amongst a myriad of nationalities.
The French were a surprise, I didnt recognise the language until someone said oui oui, ...and I will be there in 3 days.
Ah well, theres always sign language.
The stones are impressive and not as small as people have told me, and the actual site is huge, it extends far beyond just the standing stones. The landscape shows a lot. I looked around for 1/2 hour or so, then got back onto the A303, climbed up the hill to the dual carraigeway and looked back. Saw the site from above, the layout in the landscape was even more apparent from there.
Next, turned downhill and moved through to Martin, Damerham, Cranbourne, all on tiny roads with a strip of sky at the top of two 10' hedges ,B3078 to Wimbourne Minster.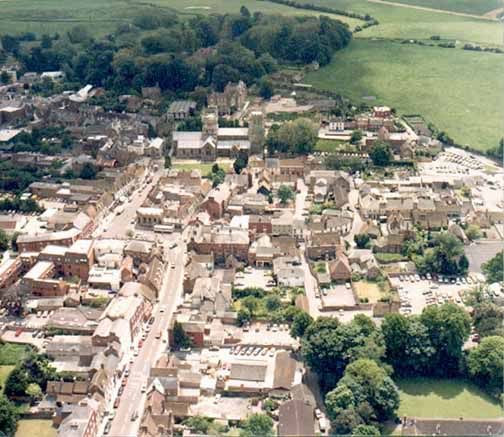 Ronald Reagan died today.
Salisbury does not deserve a mention.