Cross Hands Inn to Devises 69.3 miles..
05/06/04
Straight down the A429. The first 3 miles of the day were all downhill, 25 mph, a good start, but the A429 is a swine of a road. The builders didnt believe in contouring it, they went literally straight over every hill.
The worst was near Yanworth, it dived straight into a stream valley and then immediatley out up the other side, vertically.
The rig I have here must weigh around 120lbs minimum, even on wheels thats a hell of a weight to push up a hill, I had to stop twice and hold it on the brakes.
I need to trim the weight in the trailer.
I finally got out of the worst of the hills at around 10am, (left at 07.40) and found the going was a lot easier towards Cirencester, although the A429 road is a dual carraigeway there. Getting towards Malmesbury it's better still, all rolling wooded hills and fields.
I went to the shop that I got the trailer from in Malmesbury,
C.H.White and Son
This is a beautiful town.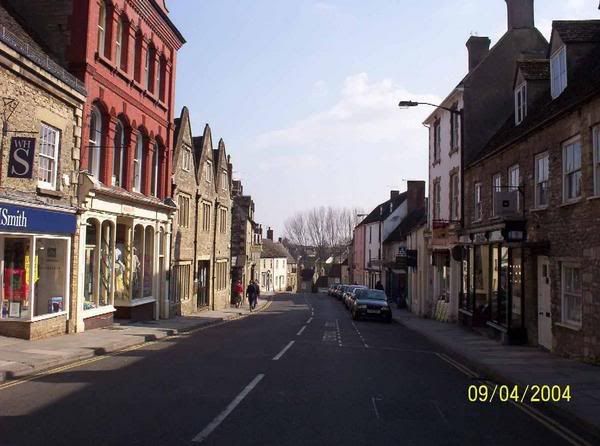 photo borrowed from
here
Old, well looked after, and very clean. The only thing I have against it is the Horrendous Hill that you find when turning right out of White's bike shop. It's very picturesque, with tiny stone houses and a narrow street and it's like riding your bike off the edge of a cliff.
A429 again today, It's been a main road day today, maybe thats why I'm so tired, (watching out for the lorries).
I noticed an old drove road alongside the main road, is this the old Fosse Way? It runs for miles. Two 5' dry stone walls about 20' apart, overgrown and full of trees now. Could be very interesting searching here with a metal detector....
Onto Chippenham......Good God what a hole. I got through as soon as I could. A complete dustbin of a place full of skint people with desperation clearly showing. Litter, graffitti, vandalism, urban decay.
I just guessed the roads as I didnt want to stop and look at the map. The town isn't signposted well, I just took the through traffic signs and got the hell out of there.
In complete contrast the A342 to Devises is lined with well kept thatch houses, all with expensive cars in their driveways, well kept fields, and an air of rustic indifference. Old road signs all green with algae and long grass at the side of the road.
Until you get to Bromham.
Turn a corner and "Olde Worlde" turns into "1960's council estate" in the blink of an eye.
Then the worst hill yet, an equal to Yarworth, just below Bowood Country Club, what a place.....now that is
serious
money.
The only hill in the area from my approach and the roadbuilders have done it again, straight up and over the thing.
I had 3 stops on this one. The roadsides are wooded and have high walls on both sides for the most part. The temperature was in the high 20's with no breeze, a suntrap. Then just as the sweating and cursing were reaching their peak, I came across a water trough set in a 10' high stone wall. A spring catcher - talk about relieved. A good splash down while holding the brakes and balancing the bike with one hand.
Above it there is an inscription carved into the lintel stone, I can't remember for the life of me what it says, but its something along the lines of
"drink here traveller, worth more than wealth,
drink here and have Gods good health"
A fitting comment below a country club like that one.
Made my Day.
The rest of the day was an easy run to Devises, and I'm camping 2 miles north of town on the A361
miles today= 69.34 total now 255.47
time riding = 5h 39m
Jakes christening today, it would have been nice to be there.
Missing Zarah.
There are lots of light aircraft passing over the campsite here, with one flying over every 30 minutes or so. Microlights etc, of all different types.
A father is trying to coach his kids to play football, "go on then", "dont keep possession", "go on then" haha, it's funny to watch.
2 hot air balloons are rising in the sunset and I'm camped about 30' from an electricity pylon.
Industrial Sunset.
£5 a night