Vila do Conde through Porto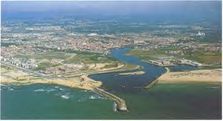 Vila do Conde
Through to Porto.
Have been wondering how to deal with Porto for a while, looked at the maps etc, compared routes and changed my mind every time.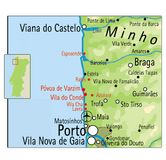 The problem with road maps is that you can see where to go and how to get there, but you cant tell a single thing about what it will be like on the way.
I settled on a route following the coast as closely as possible right into Porto, round on the northern riverbank, find and cross the middle bridge
and exit on the N1.
Sounds simple eh??
The map doesnt tell that the smaller coastal roads are all cobbled not tarmac, and that the cobbles arent laid on an even surface. The roads are all mounds and troughs, stones are twisted, high and low, it's a boneshaker of a ride.
To help matters along it was raining this morning, I was stood at the campsite gate (you cant leave yet,it isnt 09.00) and the sky got darker and darker. Riding through a dripping eucalyptus forest on a slippery shiny, teeth chattering with the bumps and everything on the bike squeaking.
Marvellous.
Complete lack of signposting again, there's a signpost for the school, the pharmacy, the library etc, but absolutely nothing to tell you which village you are in, or which road leads to which other road. I gave up after an hour and headed east to find a tarmac road.
Got onto the N13 and followed it instead, plan B, aim straight for the middle of town and see what happens.
I've been driving for 18 years and have never seen anything like the N13 southbound into Porto.
Imagine the busiest road you have ever seen, add to that a smashed and shattered road edge to ride on, speeding drivers, gusts of wind from huge battered old trucks, roadworks, cars and lorries parked randomly, masses of smoke from knackered old engines, lanes blocked by accidents, prostitutes sat on the armco in laybys, beggars holding up babies at traffic lights, large angry dogs running loose on the verges attacking at will, window cleaning gangs hassling for cash, fly tipping anything anywhere and everywhere, and more broken glass and plastic scattered around than I could possibly avoid.
Cook all this up to a sunny 30+´c and then go and explore it on a bicycle.
I will never be worried about riding anywhere else ever again, this was the absolute, the worst of the worst, king nightmare, and at the end it was the choice of 2 motorways.
I took a sign for Gondomar and a relatively quiet (?) dual carraigeway, lost again looking for Gondo´, found myself on a flyover bridge over a silent motorway, no cars and 2 lanes?, huge hard shoulder?, new tarmac?, suits you sir! that will do nicely.
The IC29 took me out of town, another ghost road, going nowhere. Up the hill at the end then to Foz de Sousa, tiny cobbled roads again sometimes just wide enough for 1 car(no bike), waited for a ford fiesta to feel its way around a particularly sharp corner.
Down to the N108 to cross the river Douro at the dam.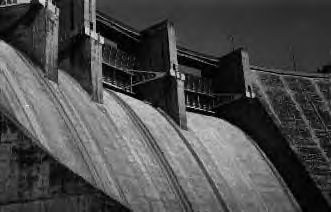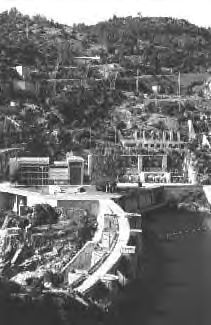 This is a beautiful place, high steep hills dropping straight into a wide strong river, blue green water, if you ride back up towards Porto a little you can see up the river for miles, small beaches dotted with multicoloured boats, and a winding twisting river. Porto on the horizon, beautiful.
Over the top of the dam and the plan is backroads to Espinho, camp, sorted.
Only the roads dont match the ones on my map, the turnings dont have town names that are on my map, stuck again, unless you want Sandim, the signs all seem to point there!
Plan B again, keep going till you
are
in a town that is on your map, and that town was?..... Porto, again, the N222
NOOOO
!!
At least I'm on the right side of the river now. N222, Av de Vasco de Gamma, Av de Republica, N1, the road I've been wanting all day.
I'm 200 yards from it checking the map again, (do I go up the ramp or down the underpass?) and a voice asks in perfect english, "do you need any help? - do you speak english?"
I've been asking directions all day and nobody has been able to help, and now 200 yds from sanctuary, help appears :)) these people are amazing, lovely. Was nice to talk for a few minutes, "Do I speak english, I Am english" N1 south, some of it is rough, some beautiful, its all interesting. Got more directions for the campsite, squeezed through a closed/broken railway crossing barrier to follow the signs, (well, everyone else was doing it), and am camped at Esmoriz, just south of Espinho, big site, very friendly, tent up write and sleep, 76 miles 09.00 to 19.30, not a chance of me riding through Lisbon, I´ll go around.