Triacastela to Palas de Rei.
Something gone wrong with the dates here, I arrived in Santiago on the 03.09, but have an exra days diary......hmmmm
Triacastele to Palas de Rei.
Excellent start to the day, the snorers slept so well they are up early and don't mind waking everyone else.
Up at 0700, 2 coffees from the vending machine and I am still bleary eyed and shaking. Packed and away for 0800 still wearing the same gear as yesterday, leaving a sweaty vapour trail behind me. Continue down this beaytiful hill to Sarria and Samos.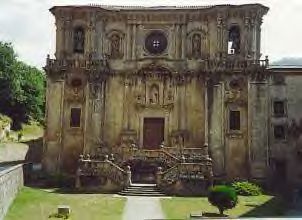 Monastery at Samos, photo by
John Layte
It's about 09.30 and I'm on good roads, nice and quiet, nobody about yet.
Dont remember much about this day.
Portomarin on the river Minho,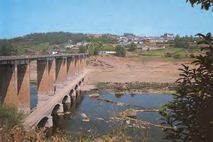 the river was very low when I crossed it, I could see old field walls and the remains of houses(?) and at least 4 old bridge ruins. I think this is a dammed river, these must have been lost to the water, showing now it's low though.
Passed the Italian that was at Ponferrada campsite, he was interested in the trailer, talked for ages, lightweight cyclist. Passed him whilst he was sat outside a cafe- haha. A look of complete surprise. My 40+kg to his 10, maybe 15? Him and his mate passed me before I reached the top of the next hill, a friendly "Hello, you again?", they were standing on the pedals, rocking all over and sweating buckets but they did it, I didn't see them again.
Big drop on the N540 to a big climb on the N547, over the top to Palas De Rei. Campsite is next to sports centre with the Camino right alongside. Free for one night stays. Just got the tent up and a thunderstorm broke, 15.00 and I'm eating knorr dried pasta, listening to the rain and the walkers cursing.
Big steel windmill here, clunking and ringing all night, like someone throwing rocks at an empty skip. Showers in the pilgrim information centre next to the campsite running cold, waited, jumped in and out, soaped up, back in and the king thing is warm. Patience next time.....