Sigues to Mendigorria, 47 miles, 21/08/04
sigues to mendigorria 47 miles 21.08.04
Set off at 0900 up the hill past the shanty town. People feel unhappy here to graffitti the walls in the washrooms ?? Not good.
After the cleanliness of France its a bit of a disappointment.
This is a beautiful spot on the shore of a large lake made by a dam a few kilometers downstream, and looked after it could be very very nice indeed.
Site is between Sigues and Esco on the main road, but on the map is marked at Sigues, an expensive mistake at the end of the riding day. 2 gorgeous girls in the tourist information office softened the blow a little though, very nice to try and talk to (I can't speak spanish at all yet.)
N240 almost all day today, lots of hills and traffic, when I found the campsite last night I noticed another touring bike so I stopped to talk. Old guy, Dutch, done the camino 3 times!! He's also done 10,000 km around France, Spain and Italy in the last few years, amazing.
Asked me if I would like to ride with him today, nice enough guy, lots of experience, and it's been a good day. Only 47 miles and his pace is a lot slower than mine, but good to speak english for the day.
Got a little dodgy at the campsite tonight, reception charged for the bikes and he wasnt happy about that, I thought they were going to kick us out for a while, but I calmed her down, is ok now thank god. There's not another site for miles and its 6pm. Landscape strange today, is very loose broken shale, almost gravel, eroded and bare, a few bushes and trees holding the top of the slopes together.
N240 to lots of tiny villages, just a few houses and farm buildings, busy road though, lots of construction work going on, building a motorway alongside the main road, will be better to ride here in a year or two.
Also building a canal, concrete river just south east of Pamplona. Can see the quarries for miles, huge holes in the side of a hill, monumental scale.
Lots of new housing developments around the old villages, stark contrast between new regimented new townhouses with their square gardens and design, and the old twisting streets and assortment of colours and shapes of the houses.
Ate dinner today at a petrol station, sat on the forecourt, next to the door.
Cheers Frank.
Not many shops here, even tiny ones are hard to find, so dinner was kitkat and biscuits whilst seriously dodgy looking geezers in battered toyota pick up trucks watched in silence, those trucks get everywhere! A nervous lunch but Frank was needing to stop, fair enough.(Monreal)
Missed a turn and went through Torres to get back to the N234, took us under the new canal, through tunnels that echoed like cathedrals. New concrete and no traffic, almost modern art, and good resting spots in the shade.
On to Campanas, Ucar, Santa Maria De Eunate, a templar church, round with an amazing design, they have used marble sliced thinly in the windows instead of glass which gives a very smooth light inside, takes a while to adjust from the glare outside. Cool and calm, stamped my card, and another one for Z.
On to Puenta La Reina,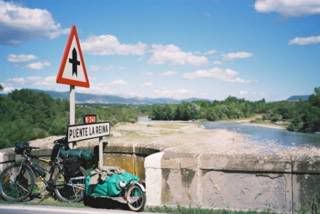 Pyrennees in the background...
The town is closed for the siesta, I would like to see this town open, tiny narrow streets and wide boulevards combined, small town, but good design.
Campsite at Mendigorria, Butlins spanish style, heavy metal music since we got here, expensive internet, very busy pool, shop etc, all in the middle of nowhere.
I can hear gunshots in the dark - someone is playing games somewhere close and nobody here is taking any notice. Lots of chattering in spanish, kids running around, bikinis everywhere, nice.
47 miles today, set off 0900 arrived here 1800.
More gunshots
10pm and the music is just as loud, Frank's not happy again, ha, good job he has earplugs.
The metal music has stopped now and I can hear very slow soft jazz somewhere in the distance, lots of bass, laid back and relaxed. Gunshots are now smaller calibre, not quite as bad as the cannon they were using half an hour ago, echoing from the hills, it's ermmmm atmospheric.
sleep.
info@campingelmolino.com
www.campingelmolino.com