Sanxenxo Spain to Caminha Portugal, 87.3 miles 07/09/04
sanxenxo spain to caminha portugal 87.3 miles 070904
Left Sanxenxo at about 10 am, a long ride along the coast on the VRG41. It's beautiful here, small boats everywhere on a calm sea with the same rocky coastline. Overcast today and about 25´c, much better here than the north of this peninsula.
Follow this link to see a
live Sanxenxo webcam
Sanxenxo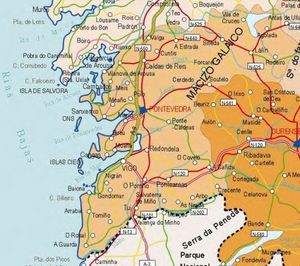 To Pontevedra, a huge town, with not a single consideration for the cyclist.
Follow this link to see a
live Pontevedra webcam
Busy main roads, dual carraigeways, and crazy drivers. The books say that Spain and Portugal have the highest accident rates in Europe, it's easy to see why.
Too Fast and all over the road!!
Most junctions here have a liberal sprinkling of glass and red and orange plastic shards, glass on the sides of the road is a constant worry. Good space at the edge of most of the roads, almost another lane, but parked cars and bottle banks surrounded by glass keep me pushed out into the traffic too much. These bottle banks are emptied at the side of the road where they stand with a small crane, into the back of a "pick up" style 7.5 tonne lorry, spilling glass fragments everywhere.
Huge junctions and traffic merging from the right, I'm Wide Awake.
I left town on the N550 to Redondela to Porrino, took a left turn onto the N120 to Ponteareas.
Redondela webcam here
My road atlas shows a campsite here but its closed, there's another one marked in A Caninza but thats over a big hill, and is it open? Should I risk getting that far inland this late in the day?
Its about 3pm and I head for the coast - Portuguese coast- I dont want to get into that motorway system again, not many small roads here, they're all big and fast.
South from Ponteareas to Salvatierra de Minho on PO403, bigger hills here, getting tired, worrying about camping for tonight. I dont speak Spanish or Portuguese, where the hell do I stay if I cant find a site, there's not enough cash in my pocket for a hotel. Franks "camp in the woods" may be a distinct possibility.
Cross the border, (a sign next to a bridge and thats it )
then turn right onto N101 to Valenca. See a cyclist pushing and stop to help, flat tyre, leaning against a fence to fix it. Turns out the "bar" behind the fence is a cathouse and all the ladies come out to watch.
Into Valenca, turn left at the first big roundabout onto the N13, flat knackered and not sure if I have the right road, I keep checking the map, slowly but surely. See a sign "parque de campismo", follow it.... nothing there. Follow the coast road to Caminha, a lovely town, the road runs right along the sea edge, absolutely beautiful, friendly people here, got some directions for a campsite.
"2km down the sea bank and turn right", I did a double-take (right?? into the sea???) There are no other options so I follow the road around the corner and theres a spit of land 1km long into the estuary with a campsite at the bottom.
Is 20.30, getting to dusk, 87.3 miles in 7h 44 mins, absolutely bolloxed, no food, no shower, tent up and sleep. I hope these riding conditions get better further south, I'm not just physically but mentally shattered today.
07.25 on the 8th and somebody parks a car next to the campsite fence, opens the doors and puts the stereo on full blast, HA!!!
Im not happy but feel ok now, every tent, Every Tent, has a confused, half asleep, blinking head sticking out.
Comical.
Scratching their heads and looking at each other with not a word spoken, pure Benny Hill.
10 miles down the coast is a larger site, washing facilities etc, fix the front gearshift cable, clean everything up.
Eat, Eat, Eat.
Looking at the map trying to figure out a way around Porto, decided to camp as close as possible to the north tomorrow and spend a day on it. More main roads, not looking forward to it, tomw should be a good day though, the N13 is a secondary road after Viana do Costelo, and a motorway runs right alongside, France and the N2020? I hope so.
From the glances I get to take, this is a beautiful country here, once I get off these main roads I'm really going to enjoy this!!