Santiago de Compostella, 04/09/04
Day off. 040904
Sat in the tent last night and watched the lights in Santiago, I should have gone up to Gozo and watched from there.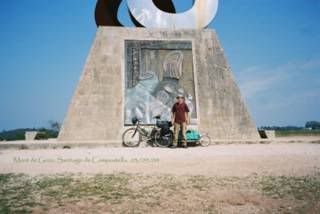 Arriving at Santiago the Camino passes this monument
On top of the Mont de Gozo.
Nice monument, good view, but I couldn't summon the will to climb back up the hill, ha.
Booked in here for 2 nights but think I will stay for 3, get everything sorted, fix the hole in the tent inner, the squeak on the bike, get everything clean and wait for my legs to stop aching.
Tomb of Saint James the Pilgrim, Santiago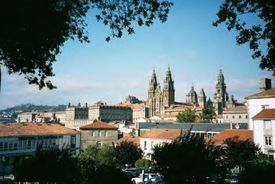 Santiago Cathedral
Internet is available in the cafe so I'm posting to this blog today.
Theo and Jannie have just arrived, have met them several times on the way here.
The Camino is different from the first riding I did in France. There it was a new site every day, new faces every day, nobody travelling in the same direction on the same route.
Here it's not the same, you join the Camino wherever and you join a group of people all doing the same trip. Passing the walkers only once (unless they catch a bus like the aussies). The cyclists tend to do similar distances every day. Bikes become familiar, you can tell at a distance people you have met before, luggage, style etc, maybe you have a good or bad day and meet other people, but days average out for people and friendships are quickly made.
Theo and Jannie are here for 3 nights same as me, the spanish girl turned up twice...once to help with the puncture and later at a campsite, one bloke I saw several times turned out to be English, a Londoner. He got his gears trashed on the flight over here, and is doing the Camino on his remaining 3 gears, he started in Pamplona. Frank I rode with for a week, maybe he will turn up here before I go, maybe not. I got the definate impression this was a last big trip, bow out with a bang, good luck to him wherever he is. Ironman.
A german couple kept turning up, they have a bob yak trailer hitched to a tandem (and I thought my rig was long.....). Where I have solar lights he has water carriers. The Italian pair turned up twice, once at a site then later on the road. 3 spanish sat at a picnic area before Sahagun, I joined them for a while waiting for Frank to catch up at the top of a long hill, out came their food, offered all around. Good people, they kept showing up. 2 Belgians passed me on the road on Honda Goldwings, sticking their legs out and waving. I passed them later on, then they passed me again waving. I got to Santiago and was walking around and they shouted me over to a cafe and bought me a beer. Chance meeting. Had driven the Camino from Belgium.
A very friendly and multinational affair all the way.
Everyone on the Camino is having a rough time, long days, hard work, sweat and blisters. The way is chosen for you, you have to climb those hills and have to stay the night on the route. Slog to a campsite or no sleep in a refuge, good or bad you get what you get, Everyone is in the same boat. Everyone pulls together. A fantastic atmosphere, all friendly, all helpful, all smiling.
There's another thunderstorm here, and people are getting soaked right now, all their gear, tiny tents and little experience and all I can hear is music, chattering, and laughter.
Superb.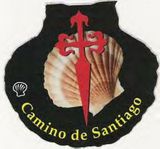 Will be heading south next, into Portugal.