Reynes 1
Back to Reynes, and a guided tour of the property.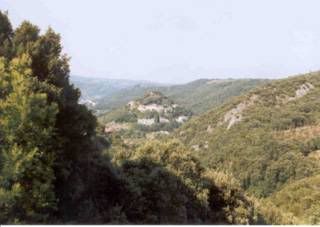 Reynes from Can Guillet
It includes 2 mountains and a canyon, with a stream runing through 4 natural swimming pools.
Acres and acres of trees, terraces leading up the hillside, 60 - 70 foot cliffs of cracked and worn granite opposite perfect bouldering, their own private Shipley Glen.
12 sheep running around the hill and one tiny tame one called Boomsie (with a bell) that hangs around the house. A dog called Ouzanne, doberman colours and size but a French breed, pedigree, well behaved and very friendly.
Fencing for the sheep running for perhaps a km, uphill and down dale, my job is to finish the last 200 meters, along the canyon top, through the trees. 4 chickens, a black cat, organic veg garden, apricot trees, cherry trees, fig trees, other fruits I don't recognise, this place is huge!! Lawn, chicken runs, nut trees, paths everywhere! and all the time a fantastic view across the hills to the Med!
Walked the canyon, very very smooth granite, worn by winter floods, slippery shiny with a stream running between boulders, over small waterfalls and into pools crystal clear. Crayfish and fish, bamboo islands, and tiny paths, this is a magical place. Higher and higher, every time you turn a corner something new. A gate with iron decorations, worked stones in the river, a new cliff, different trees, pools and the heat. Till you reach an impasse, a waterfall with no path around. No problem for Jean-Phillipe - straight up the side of the nearest boulder - 20 foot corner climb, trees and cracks all full with dry dead leaves and old damp moss. Over the top and up a slope, still not good underfoot, no solid ground through the leaf litter, down a little to a fixed rope. Traverse. Just one inch thick damp moss on top of smooth granite underfoot and hand over hand along the rope. Ok, nervous, but can handle that, now another fixed rope. Hand over hand straight back down to the river. Nice!! can hear a little scream as Jocelyn dives into the previous pool of cold water for a swim. Very atmospheric here! Its the highest part of their canyon, irrigation pipes run from here to feed theirs and their neighbours land, typically nice of them to run water pipes for the neighbours !! A look around, another pool with a waterfall over a high boulder blocking off the rest of the canyon, and, surprise surprise, the way in is the way out!! hand over hand again, very enjoyable now, back up the ropes.
Followed the fence up and up, over terraces, stone walls and trees, old bonfires and blackberries, crickets singing, a group of sheep, a bell on one clanging gently, stop and watch them, peaceful and calm. Down again following the fence to the house, an incredible amount of work done here, and all in a robust and inventive way. Very impressive!