Osse en Aspe to Borce, 18.7 miles 18/08/04
Osse en Aspe to Borce 18.7 miles 18/08/04
Left Osse at 0900, hellish wind all night!! tent was excellent, Vango Equinox 350TBS. superb!!
Battered all night and doesnt show it. The germans that arrived late yesterday didnt fare quite so well, they caught a train to Perpignan, lightweight cyclists, a 3 week holiday across the Pyrenees, I hope their tent lasts the distance, didnt look too good this morning.
Ossa to Lescun, what a climb!!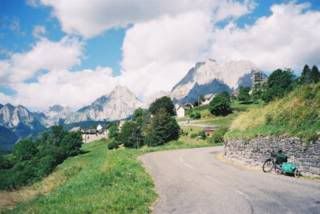 Lescun village
5km of steep hill with a 40 kg load on the bike,not looking forward to Somport now.
Village built in a cirque, good photos,
View from the village
Tiny church with the tower in scaffolding, but have not climbed that hill to be put off by Danger-No Public signs.
This is France,they dont mean it, ha.
Not a poor village but the church not looked after here, front ripped off the donation box, hinges all twisted, candles that wont burn, wedding invites from 10 days ago still scattered about the place, no scallop shells and a feeling of desolation.
No wind here though, all along the main road through the pass has been into a strong headwind but nothing here, strange, maybe the cirque is stopping it.Photos and a long downhill to the main road again, south to Borce, population 100.
My legs are not good today, that climb was difficult, theres a campsite sign and I'm taking it.
Borce is en route for the pilgrim trail, get my card stamped and find a pitch.
Its a tiny place, narrow streets and very well kept, looked after. Water troughs everywhere, the bar is also the village shop, no beer for me, just enough in the shop for a days eating, someone has been busy in this town, organising and regulating, they have done a good job.
No campsite though so its back to the refuge I passed earlier and eat. Duck pate, fresh bread, orange juice and strawberry jam, with PLATES and GLASSES and a TABLE with CHAIRS, I like camping, but after a while.....
Also, I'm not in someone elses house, I'm alone and can relax in some privacy, in a 12C building adjoining an old empty church.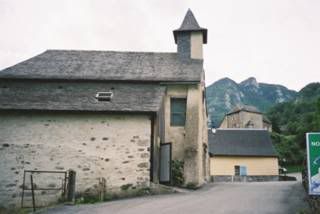 Hospitalet de Borce
Whilst I'm in the kitchen I can hear the piped music in the church coming through the wall,
spooky
, chanting, choir and solo.
How many people have stayed here?? It doesnt even bear thinking about...
E10 a night. Miles today = 18.76 in too many hours
View from the velux window in above photo