Osse en Aspe 17/08/04
View from the campsite gate
Another day off, I couldnt pass this chance up, less than 2 quid a night in stunning surroundings.
Everyone has gone out, or left.
Text message from home, waiting for house survey. Not good. Am worried for them now. All happens at once eh?
Zarah gone home to the Phillipines for a month, a good holiday with her family, I hope she enjoys it.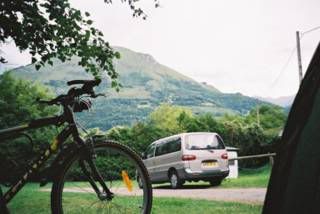 View from the tent doorway, Osse.
Silence here, the odd dog barking (at night theres one sounds exactly like American Werewolf in London, the moors scene).
Birds singing, rains stopped and now a cool breeze and sunshine, 22 degrees, a nice change, sat on a borrowed stool and the tree I'm leaning on is rocking in the breeze.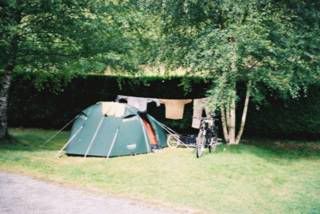 Catch up on some sleep.