Mediterranean coast and Reynes...written 10/07/04
O.K.
Not written blog for a few days now. Unsure of when I last wrote!
Is Saturday afternoon 10.07.04 evening - about 8pm. Impressions and memories of the last few days.
Arrived here about a week ago, scorching sunshine, rode from Torreills Plage down the coast. Was a strange site at the beach, very busy with holiday makers, lots of poseurs with the expensive clothes all out for their jollys. E23.00 for one night just me and the tent, expensive here!
Scottish couple with a huge camper van a few spaces down, punchy aggresive little man with scowling kids. I found him prowling around my tent in the middle of the night, soon got rid of him, he didnt come out of his van the next day... haha
Disco till the early hours, not good when you're in a tent 200 yards away! Went to the beach when I arrived, fairly busy and couldn't get the trailer through the sand so went back at 7 the next morning. Large gently sloping beach and smooth smooth blue water, looking into the sunrise, very nice. Only 8 people there but I was soon on my own, they left one by one. Dipped my feet in the Med, was a good feeling, right across France!
Back to camp, pack up and leave. Took the D81 south to Canet Plage, D81A to St Cyprien Plage runs right along the beach. Strange here, very scruffy with litter everywhere. A lone bin overflowing with rubbish opposite a salt marsh nature reserve, not being looked after, the litter spreads with the wind.
Through the marina south of St Cyprien, lots of expensive boats here, large chandlers and boat yards/drydocks. Back to the D81 to Argeles-sur-mer. Nice place but a little too busy for me, turned inland on towards the D618 only to find - no bycycles allowed. Took the back roads through St Andre, St Gervis (D3618) to rejoin the D618 further down, mostly if not all level (from memory) till around Ceret. Pretty sure I've written about this, found a tourist map/board showing camping in Reynes so decided to ride all the way. Got there and got lost! All canyons with winding roads, rising higher and higher, twisting around mountains. Take a wrong turn and its expensive in time! Sat on a wall for a rest, too hot and a steep hill, on my own just trees, the road and perfect blue sky, and could hear music echoing from the hills, very eerie but very very welcoming/peaceful. Turned out to be a tea party at the town hall.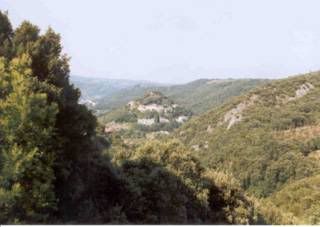 *Town hall is just below center of this
photo. Thanks to Doro' for the pic*
Lots of people all gathered under a marquee roof. Guy singing and the crowd singing along. Took a wrong turn and climbed 600/700 feet up towards Roc de France. Had run out of water, found a spring/tiny stream in a split in the rock, 2 -3 feet wide + 20 feet back, natural pool, a cold and very welcome drink! Turned around when the tarmac road changed to unmettled surface, back down to the tea party to ask directions. A lovely old girl, huge, told me which way to go, and set off uphill again, a different hill!! Finally found the house and nobody home! Hours and Hours pushing the bike and trailer and nobody here. HAH!!
Left a note and back to town to find a campsite.
Too hot, too tired, but at last I know where I am going. Booked in for 2 nights and got some sleep.
Came back the next day and got a marvellous reception, Jean-Pierre and Jocelyn, an amazing couple. She is about 5' 3", slim, dark suntan, curly hair, dungarees, FULL of energy - bouncing around - all smiles and singing. I like her a lot already. He is about 6' 3" long ponytail, very relaxed, happy guy. Whistling and singing, completely at ease with himself and his surroundings, very likeable right from the start. Sat down, said our hello's (in excellent English) chatted for a while, told them I would pack up my camp and head on back up here tomorrow. Perfect!
Tomorrow.
Arived around 09.30 to another very warm welcome, I have a cabin at the end of a terrace, one above the house. Very cosy, turn left out of the door and I can see all the way over the hills to the sea! Beautiful.
O.K. details here all mixed up! 4 days in one
These are amazing people, there is no negativity here at all, EVERYTHING is positive from the surroundings to the conversation, amazingly warm, welcoming, even loving, atmosphere here. The house looks like an artists retreat, eclectic, busy, with a hundred different details. You see something new every time you look, again and again.
Jean-Phillipe own/runs a workshop/garage next to the house, passionate about motorbikes and sidecars, he has built a sidecar to race, in Belgium, in around a weeks time, very well equiped workshop, capable guy!
My first job... a tip run. Empty lots of old bike parts and junk into the van and take a drive to Ceret, (my first drive on French roads) a small renault van (la cart elle) following the white van man to Ceret. Drive ok. but cocked up totally at the tip. Dropped a TV into an empty skip, (large explosion as the screen blew out!) only to find its the garden waste skip. Young lady appears with a ladder and a shovel, o.k. time to clean up the mess!!
Drove back on my own from Ceret, only about 6 miles, a little worrying but no problems. Trying to drive the wrong side of the road, left hand drive, judge the distance to the kerb, watch the other drivers, read road signs I'm not used to, use a dash mounted gearbox - right handed and remember the way back "home", enjoyable.
Was introduced to some friends and again, very nice, very warm people, had an amazing meal outside their house, tiny olives (wow), salad, fish with onions - new tates, - How do they make it all taste this good? Apricot tart (apricots from the tree in the back garden) a taste explosion, fresh and cold - never had this before! this guy can COOK!!