Foix to Torriels Plage, 104 miles 03/07/04
03/07/2004
Just woke up to a scary sound, a few days ago, leaving Lourdes for Bagneres I rode through a swarm of bees, down a gear and GO! Got through ok but this morning I heard the same sound, massed buzzing. Sat in the tent for a while but it didn't go, they didn't move on, eventually looked out and the tree I am camped next to is FULL of yellow flowers and thousands of bees. Can hear them humming over the sounds of everything else. They weren't there yesterday, maybe the tree is only just right, or maybe the bees only come here in the morning. Time to go.
Leave at 08.00.
Writing this on 04/07 - didn't get time last night. Usual roads, but this time instead of looking at the mountains on my right, I'm in amongst them. The road is turning south and the hills are getting higher! Long climb up just before Puivert round the top and look down onto amazing scene. Looks like an old lake bed, now dried out. Shelved like a swimming pool, with the shallow end in the distance (1 mile x 1 mile?). Patchwork of feilds, houses, tractors, tiny roads, all walled in on 3 sides by mountains, the shallow end is open and in the far distance I can see triangular mountians, one looks like typical "volcano", blue with distance and blue merging with the sky.
Drop into town and a steady climb out, almost at the top is a viewpoint (left) on the wrong side of the road, scruffy, litter, cigarette ends etc (looks popular) so I take a look.
"L'Aire de la Croix de Simon" I bet I can see for 100 miles from here, villages, cliffs, roads, valleys and fields all leading away. Shadows of clouds moving along the ground. I'm on the highest point so can see over the hills, this just gets better! a 3 cigarette stop!
Half a mile further on the road starts to drop into Quillon. The best yet, of the whole trip so far, this is the best. 700/800 feet, maybe more, below me is Quillan... straight down!
Another, smaller lake bed valley, this time with no shallow end, no way out.
Look at the map, no way round, look over the edge of the wall, long way down, lot of height to lose, zig zag down, follow the road.
The pharmacy sign said 19c on the top in the previous town, sign in Quillan town centre says 29c, inside a mile!
So how to get out? The D117 goes through a canyon/gorge.
The "Defile de la Pierre Lys".
A river and a road in an 80' space, white water rafters setting off here, canoeists, climbers, the first climbers I have seen in France, limestone? , 250' bolted, heavily cracked, 5C tops. Nice slabby wall my favourite!!
Flying buttresses from the right are cut through by the road giving a quarter of a circle tunnel effect, the road is scarred and pitted where rockfalls have hit the tarmac (not today -please?) Tourists driving slowly and idiots overtaking them, tiny winding road. 300' + high in places, scree slopes and vegetation, limestone and shale. Maybe 1 mile long? through a whole tunnel and the walls recede, cliffs shrink and its an uphill grind again.
Perfect new tarmac, green trees, and cloudless sky, remembering being told about Pyrennean bears, and the statues of them on the roundabout I passed a while ago, still walking, why struggle up a hill and miss all this?
From the top of that hill its downhill for 30 miles.
Tickle pedals now and again when I get to level places, and 2 small rises of maybe 100 feet max. 1 town spoils the rolling, St Paul de Fenouillet, nothing special apart from it doesn't look French, not like the France I have seen - more Spanish?
Am into desert here, tiny plants, DEAFENING cricket sounds, Almost no houses, scattered very thinly, sign for a camp site that I can't find. Down and Down, hotter and hotter, dryer and dryer, miles are building up, but its easy going here down to Perpignan, to the coast above the town, see the Med for the first time, find a site. 103.89 miles in 7 hours 59 mins riding time.
Route for today D117 from Montgaillard just south of Foix to the N9 in Perpignan.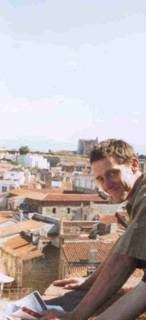 looking out from the
top of the old prison
tower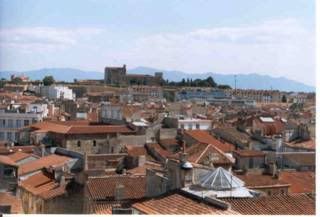 Perpignan
Perpignan.
with thanks to
Dorothea Schuster for
the above 3 photos
Next turn north for a few miles D83 east to D81 south to Torreils Plage, Busy site, expensive @ E23.00. Disco till early hours kept me awake, good job as I had to get rid of a prowler in the middle of the night.