Fanjeaux to Audinac les Bains, 64 miles 11/08/04
Couldnt find a supermarket today.
Saw one but it was on the wrong side of the dual carraigeway. Not eaten since 0900 this morning,(1 banana, few peanuts, half a chocolate bar) so if this makes no sense whatsoever please excuse...
Also am writing this in my tent in the dusk~dark after 64.06 miles in temperatures of up to 49 degrees C. I have a thermometer on the crossbar of the bike, fair enough its in the sun on a black bike, but so am I !!
Lots of pushing today, am partially retracing my steps on this route, have been to some of these places before on my way south, long hills up and down, knowing whats coming doesnt make them any easier. Ha.
Route today, from Fanjeaux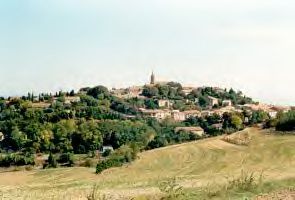 Fanjeaux
D119 to Les Pujols, airport, D12 to N120 south, yes its a motorway, rode on the hard shoulder, approaching it it has green signs not the normal blue ones, didnt realise till I was on it!! It must be the heat....
Got a flat tyre on the back wheel, number 2, just north of St Jean de Verges. Steel fencing staple. Had to unpack the bike, remove and repair in 8feet of space, lorries flying past.
Walked to a flyover bridge and did it in the shade (36C) I thought it would all come to an end as a messy smear on a french motorway for about half an hour, got away with it but I dont know how!! Left straight off at the next exit.
Back roads to Foix, very busy roads, bad surface and NARROW.
Been to Foix before, I still like this town, smart, clean, lots of cafes, good architecture.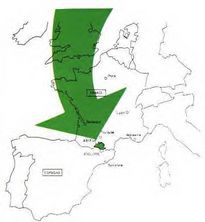 On my old route now, D117 to La Bastide de Serou, D117 to Castelnau Durban,
leaving this town is the donkeymilk place again, HI Z :D, the sign says
A Sinerie de Feillet
Lait D Anesse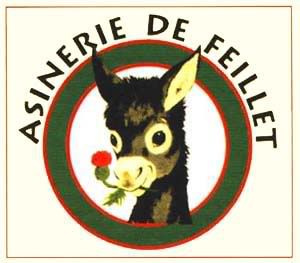 link here
Maybe its available over the internet Z, will have to see if I can find you some......
Maybe need to explain here, when I was planning this trip I looked at the website for the WWOOF organisation,
wwoof.org
they arrange contact between small organic farmers and people interested in learning about organic farming, accomodation is free of charge in return for a few hours work a day. One of the first places I noticed on this website was a farm selling donkeymilk, Zarah took this to heart and has been 'Donkeymilking' a lighthearted wind-up ever since.
Uphill again, the second big one since leaving Foix, whilst I'm riding the thermometer says 36 to 38C but when I stop to push its straight up to 49C, this hill and the hill leaving Foix, the heat from the road is burning my feet through my sandals, which now smell like dead animals, no exaggeration, lots of roadkill here and these sandals smell the same, need new ones!!
D117 to St Girons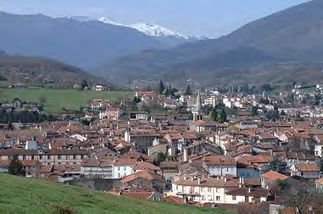 St Girons
turn off just before St G north to Audinac les Bains, a huge campsite, hundreds of people here, reception speaks english thank god, I'm now a dead man walking, 3.5 litres of water all day. Got my pitch, txt to Z and home, summon the will and pitch the tent.
Shower superb, cool and takes the sting out of the sunburn.
When I checked in reception wanted to keep my ID, driving licence. I declined saying I would be leaving early tomorrow, she said ok, but please be quiet and respect your neighbours, they dont like noise, HA !!
The disco has just started, its 10pm and I want to sleep, fat chance.
I really need to get my autopilot under control, have passed through several big towns, probably over 100 cafes and havent used them, I focus on the cycling and still forget the rest, Its true the french look down their noses at me, scruffy bike tramp, and that really pisses me off, some fat sweaty waiter ignoring you can make steam come out of your ears!! I get down, and when I'm down as I've said before, this is not a good life. Cycling and camping is hard work enough
without anger too.
If I do days like this often it will damage me more than a lazy arsey frenchman could ever do. New resolution, use 2 cafes tomorrow, bollox to the french waiters, use them every day.
The disco continues,
Now playing..at an open air disco near you...Life is Life...Arghhhh kill me, end it now !!
Black lace, birdy song, locomotion, Class act here, lots of cheering and singing, I may have to go dance myself into unconciousness.
OK CANT SLEEP
so heres a song list
1. Queen, we will rock you, karaoke version, all drums none of that excellent guitar
2.What a feeling...flash dance.... not too bad, cheering
3.something french...bottles breaking, people screaming
4.Eurythmics, Sweet Dreams....now they are taking the piss, they dont know the words Sweet Dreams are ... blurb
5.chihuahua
6.la bamba
7.they've turned it down!! thank god, can hear the chuch bells chiming, sleeeeeeep