Canfranc to Sigues, 20/08/04
OK, writing this on the 21st, all downhill to Jaca...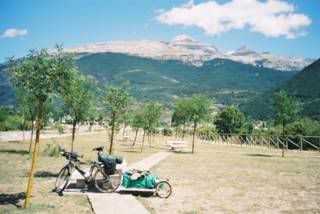 Looking back at the mountains from the spanish side.
To Jaca, all downhill...
...18 miles of it, marvellous. Found some small shops, stocked up on cigarettes, 10packs for E20 - big surprise. Batteries, lots of food, and I'm moving again.
Photo of the border from the spanish side, it's all different here, the road and landscape is wide open.
Jaca
Entering Jaca is a little scruffy, graffitti on all the walls and roadsigns but once past the university its all ok, smarter, another nice town. Smart people, lots of boutiques, but I still havent found a supermarket bigger than 50' square.
N240 out of Jaca, large campsite, took a ride round, busy, dirty, lots of 4x4 with caravans, I didnt stay - just rode out again, reception didnt like it shouting at me but it's not my problem.....
N240 all the way, not an attractive road but no worries, camped just past Sigues. Good photos in the tourist information brochure, people windsurfing, motorboats and sunshine at the side of a huge lake. Paid, got inside and its a shanty town on the side of a hill. LOTS of old caravans boarded up, some open and lived in, deck chairs and flowers next to rust and broken windows, all under corrugated iron roofs.
Camping at the bottom of the hill next to the lake, good choices, set up next to Frank, the Flying Dutchman, 68 years old and still doing long distance cycle rides. On the other side, a very friendly Portuguese couple, they gave me the lowdown on where and where not to ride in Portugal. He's a cyclist himself and is planning to do the Camino too, nice guy. I have tips on beauty spots, danger areas, good places to eat, good places to stay, and a few words of Portuguese to get me started. An emergency telephone number if I get stuck (thank you Silvia) and an introduction to Fatima, a major pilgrimage site in Portugal. A lovely couple and a very productive evening, helpful info for later and a riding partner for tomw, Frank.
Camping Mar del Pirineo, Sigues