Audinac les Bains to St Bertrand de Comminges, 42 miles 12/08/04
Am writing this on my day off. Saturday. Combinations of heat, injury and tiredness, in other words any excuse, stopped me writing before.
Started out from Audinac les Bains at about 0930, this is beginning to be a normal start time, not much sleep as you may have already read.
Not paying attention as I loaded the bike, I dont know how I managed it but I put my back out lifting one of the panniers, am now an injured zombie. HaHa, Bloody painful. Cant push on the pedals too hard and any twisting motion on my back stops me in my tracks. Marvellous.
Another steady day, took a backroad to St Lizier, this town is built on a 45degree slope!! Arriving had to turn right and uphill, hell what a push. Took me to Le Palais de Eueges, a hilltop castle-chateau-palace.looking down onto the town, photo, Didnt stop long, wanted to keep moving, find a quiet site and sleep.
Supermarket in St Giron,eating again, breakfast in the carpark with an audience of suspicious old ladies.
D117 to Salies du Salat, Montsaunes, D69 and D69J to Beauchalot avoids the motorway, bad memories.
N117 to St Gaudens, I remember some of this route, is only 5 or 6 weeks since I was here but I have forgotten so much!! Am remembering crazy details, a shop sign, a junction, but not the overall places. Strange.
Leaving St Girons saw an english removals lorry, driver looked really stressed, ha, was a strange junction he was stopped at and nobody was giving him any space. Junction of D8 and N117. I took the D8 and left him to it. A very presentable road, beautifully kept houses and shops, more like northern france, perfectly flat at the start. Stopped at a pattisserie, E6 for a slice of pizza, 2chocolate eclairs, and a biscuit, she weighed the pizza !! Wrapped everything up in small bags and boxes, almost gift wrapped, sellotape the works. Pretty girl, very feminine, NICE.
Glad she didnt see me eat it outside, it was gone in less time than it took to wrap.
On towards St Bertrand de Commimges, I have sign posts from the start, good, this looked complex on the map. A long flat straight desert of a road leading along the edge of the mountains, thought I had missed my turn it was so long, round a few corners and into the hills and I'm still on a flat road...hills all around but a flat route through them and suddenly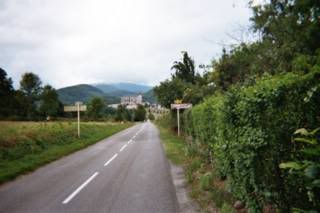 I'm looking at this tiny town built, or I should say Squeezed, around a HUGE church.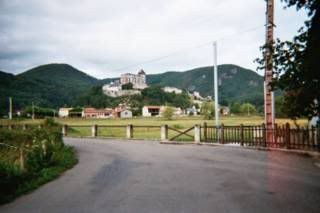 Its all fortified, on top of a 150 foot hill.
Lots of stares as I approached the church, sloping cobbles not good.
Inside is amazing, high ceilings, lots of arches, a forest of carvings and 13c paintings.
Inside, postcard*
Saw the tomb casket of St Bertrand, a tiny 3x2 black box with gilt decoration off a small corridor at the back of the church, was behind a heavy iron grille made in 1425!!
That was a strong blacksmith!!
Theres some history here, lots of relics- tiny pieces of this and that set into gold and all behind THE GRILLE
Signed the book, made my way out, down the hill to the campsite.
Tent up and crashed to sleep.
The sheep woke me up, old guy, OLD GUY, tapping his staff on the road and shouting at the sheep. Sheep bells ringing, right past the tent on the edge of the site, very atmospheric in the rain, txt to Zarah, late afternoon, church floodlit now, wow
42.11 miles in 4hrs 12 min riding time