Astorga to Ponferrada, 37.3 miles, 01/09/04
astorga to ponferrada 010904
37.33 miles in 5h 16 riding time.
This is in 2 parts because I cant write them both together, too much to think about.
Part 1
Up at 06.30 and it's still dark, light at 07.15. Packed up, walked in on a french lady in her smalls in the gents. Typically French, didnt bat an eye, "Desole, les hommes?"
Started to leave at 07.30 held up by a flat rear tyre, between the tent and the gate??. Got going at 09.00 uphill ALL the way. No main roads, nice!! Up into the hills, climb and climb, maybe 1500 feet (500m) small villages, fantastic scenery, could look back to the plains from the top, Wow....
Big scar stretching to the horizon from a recently laid gas pipeline, messy. Through the tops of the mountains and down the other side, fantastic, looking at Ponferrada from 2500´ above, hazy air, blue town.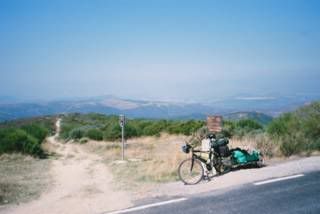 Ponferrada below...
Rough road and very steep on the descent, hairy corners on hot brakes with the trailer pushing all the way. Tiny village hidden around 1 corner, first floors almost meeting over the cobbled and concrete street. A cold drinks machine!! FINALLY into Ponferrada, the campsite is in the back garden of the auberge,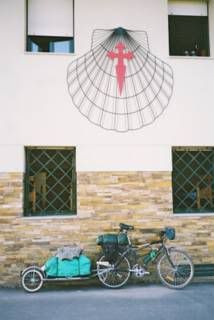 Refugio in Ponferrada
Old walls all around and the mountains looking down at me.
Shower, Eat, Rest.
The Camino is getting busier now, lots more walkers and cyclists. Got talking to a Spanish girl on her first Camino day, squeaky clean her and her bike, perfect.
It's hard to explain when they ask "how far".
Its not just the miles its the conditions, the food (or lack of it), no sleep, the smelly clothes, roadside repairs, constant awareness "I'm not in england", language problems, traffic problems, navigation problems, fantastic days, amazing people, stunning scenery, foreign architecture both buildings and towns.
I say 2700 miles and they say "muy bien", "very good", but I dont think they understand.
You may have noticed the tone of part 1 changing, .. preparation for part 2
Part 2 ... Swine of a day!!
4 punctures in 1 day and ALL on the bikes back wheel. First before I left the campsite, 2nd less than 10 miles up the HILL, repaired next to a church on a tiny grass patch all rocks and sloping. 3rd in the village with the drinks machine, maybe glass but turning the rig on a flat tyre pulled the valve from the tube, and my remaining spare tube has a different valve.I have to enlarge the hole in the rim with a penknife. 4th down the hill about 2 miles later, (in the middle of the devastation of a forest fire). No more spares, I have to walk it down the hill.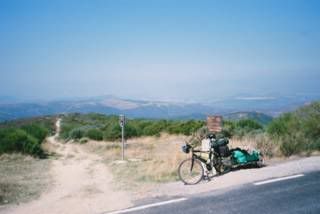 Looking down to Ponferrada
It's about a 7km walk, a nasty push!
Each one cost me an hour, the last an hour and a half, unload the trailer and rack, fix, reload.
2 punctures in 2700 miles then 4 in 1 day, very hot very tired, more than a little oily and nowhere to wash.
On the plus side, puncture 1 meant I didnt ride in 5´c - T shirt and 2 fleeces, it was 12´c when I set off, P2 waiting for glue to dry found a staircase in the back of the church, old woodworm stairs to a belltower with excellent views, the cast bronze bells made in 1768 with fancy crucifix decorations + dates, and a lovely couple of Spanish ladies resting next to my bike when I came down again. P3 and another Spanish girl stopped to help/watch/chat. Gorgeous. Also spotted a shop tucked away, thats food for today. P4 I got walked to an alladins cave of a bikeshop by an old guy with a handshake like King Kong. Everything in this shop, 3 new tubes, 2 bungees (hard to find) for E15.00, and he properly finished the hole in the rim. Short stocky Spaniard and his wife, they had no English and I no Spanish, so we limped along with mutually terrible French.
Sweet and sour today, over the last big hills and almost there.